Natural and Processed foods
– what's the difference and why should we know?
"Where possible we should be trying to eat whole foods that are close to how they're found in nature and dial back on highly processed foods."
Good solid advice for us all from the Heart Foundation's chief adviser on Food and Nutrition, Dave Monro.
Dial back sounds a lot better than dumping
As Dave points out, many of the foods on our supermarket shelves have been processed in some way or another, and this is not necessarily a bad thing.
Basics like bread, milk, and cheese can all have some level of processing but are staple foods. A processed food like a pasta sauce can actually be a great vehicle for a healthy dish loaded with vegetables.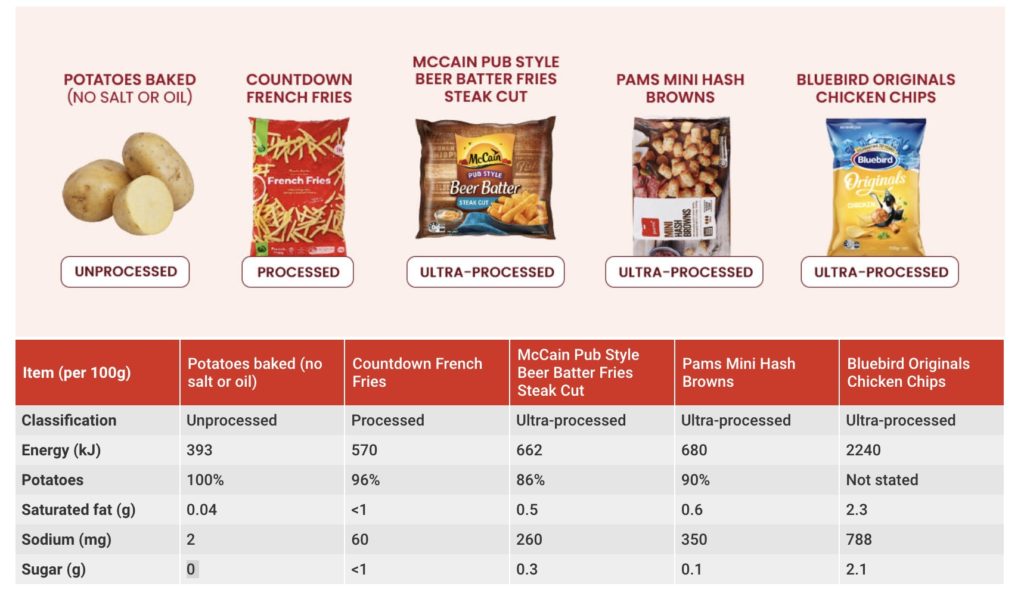 "The issue comes with the foods that have a very high level of processing" Dave says. 'These are so refined that they don't fill us up, contain a lot of additives (that we would never eat by themselves) and have high levels of added sugar and salt."
"These foods are often described as ultra processed foods and are low cost, highly marketed products, very accessible products in our supermarkets.
Really, really accessible. A 2019 report from the University of Auckland found that in many common product categories, more than 85% of products were ultra-processed, including snack foods, bread products, meat alternatives, and sauces and dressings. Across in Australia researchers found 80% or more of the product range of 12 of the top 20 food manufacturers in Australia was ultra-processed.
Listen to how deep into our shopping trollies ultra processed food are in NZ
Ultra processed foods are often high in energy and less healthy nutrients such as sodium and sugar, but are low in beneficial nutrients like fibre and protein. They contain little or no whole foods and often have additives such as sweeteners, colours and flavours.
They are easy to overeat. Which can be bad.
There's little doubt left that high intake leads to increased health risks, such as being overweight and having obesity, type 2 diabetes, heart disease, high blood pressure and depression.
There are also emerging concerns that ultra processed foods UPFs can be addictive, largely because of the amount of added sugar in many of these products.
Dive in  deeper:
Great article on ultra processed foods along with useful graphics from Consumer NZ
How to understand all that stuff on food labels in NZ
For more information from the New Zealand Heart Foundation and five ways to eat less processed foods see this blog on the HF website.